Chalet Thym Montagne with 4 bedrooms and 2 bathrooms, situated in a beautiful area of Morzine. 15 minutes walk from the Nyon lift and free skibus stop.
Chalet / Patio Eating
Fire Place & Lounge Area / Dining Area
Main Bedroom
Mezzanine Bedroom
Mezzanine Sitting Area | Mezzanine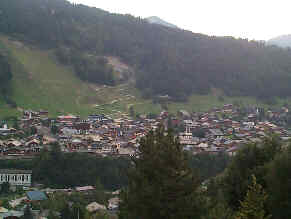 Mouse Over Another View
Floor Plans
Second Floor
First Floor
Ground Floor
Chalet Thym Montagne
The chalet has 4 bedrooms and 2 bathrooms with additional double bed on landing and is situated in the prestigious and beautiful Vallee de la Manche area of Morzine and 15 minutes walk from the Nyon lift and free skibus stop.
The lounge has a TV, CD player and a telephone for incoming calls (much, much cheaper than using mobiles!). It also has a log-fire.   You can also buy a telephone card to use it for outgoing calls.
The kitchen has a dishwasher and of course a fridge.
On the ground floor there are a washer and a tumble drier.   There's space to store skis and boots on the ground floor.
There's a garage for one car and space outside the chalet for 2 more cars.   Also please note that as the chalet is close to the road, there shouldn't be much snow shovelling if you want to use the cars.   The local authorities clear the road regularly.
Facilities
Bedrooms
4 double / twin bedrooms.
plus curtained off space with twin beds on the mezzanine floor (see photo).
Wash Rooms
2 Bathroom
Laundry on Ground Floor
Living Rooms
Comfortable living area with open fireplace
Dining area – seats 10 people comfortably.
Kitchen
Well-equipped kitchen which includes dishwasher and fridge.
General
Skis and Boots Store
Telephone ( Phone Card required for outgoing calls )
Leisure
TV &CD player
Outside
Garage for one car + space outside for 2 more cars
Local Sports
Special Note
Car is recommended for convenience.